Mat Rental Services Provide Protection
and Comfort for Your Restaurant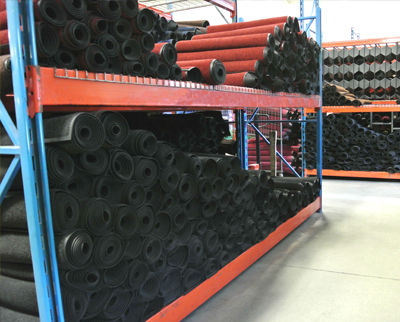 Don't skip out on floor mat rental services! They are an essential part of any restaurant or kitchen's safety and cleanliness protocols. Floor mats not only keep the floors clean by trapping dirt and debris, but they also prevent slip and fall accidents, which can be disastrous in a kitchen setting. 
Sohn Linen Service provides high-quality floor mat rental services that are designed to keep your employees safe and comfortable all day long. Many of our mats have anti-fatigue properties, which is ideal for kitchen staff who stand for long shifts on hard surfaces. We carry a large selection of stock mats and also offer catalogs and color samples to assist you in selecting the right mats for your business.
In addition to their functional benefits, logo and entrance  mats can also enhance your restaurant's aesthetic appeal. We offer custom mats with logos or branding to welcome guests and add a personalized touch to your establishment. These mats can also help trap dirt, rain, and snow that Michigan's weather may bring, helping to keep your restaurant clean and safe for patrons and employees alike.

Standard Mats
2×3, 3×5, 4×6 and 3×10

black, gray, red, brown, navy, green
Anti-Fatigue Mats, Scraper Mats and Welcome Mats


Classic Solutions Indoor Floor Mats
High-twist, heat-set solution dyed nylon yarn resists crushing, traps dirt and extends the performance life of the mat.

Impervious to bleach, sunlight, and repeated washing.

100% Nitrile rubber backing for increased slip and skid resistance.

Logo Mats
Digitally printed logo mats reproduce fine detail, fades, and 3D images.

25 standard colors and over 300 accent colors available.

Static dissipative nylon yarn treated with StainStopper™ Technology.

100% Nitrile rubber backing for increased slip and skid resistance.

Kitchen & Anti-Fatigue Mats
Available in durable, 100% Nitrile rubber or general purpose natural rubber.

Molded tread surface cleats effectively scrape tough dirt and grime off shoes, keeping soil below foot level

Super Tread, Indoor/Outdoor Mats
100% Nitrile rubber for superior grease and oil resistance.

Treated with an antimicrobial agent to guard against degradation from microorganisms, reducing the possibility of mats being the source of odors.

Anti-static properties allow for use around sensitive electronic equipment.

Complete Comfort™ Anti-Fatigue Mats
Fully launderable, anti-fatigue mat is made from durable closed-cell Nitrile foam rubber and is resistant to grease, oil, and chemicals.

Edges are beveled for easier floor to mat transition.

Textured surface offers superior slip and skid resistance.

Anti-microbial treatment reduces odors by inhibiting the growth of germs and bacteria.
To speak to a sales representative regarding all of your mat options, please contact our office at 800-292-8689. Mat rental available.